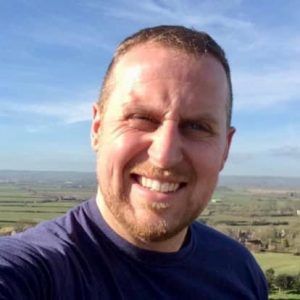 We are delighted to be supporting local businessman Ray Holder who is running the London Marathon in memory of his mother Kathy who sadly passed away 20 years ago from MS.
Ray owner of Robert Neave Ltd  is currently well into his long distant running training program and starting to feel the impact of continuous pounding of the local roads.
HBOT is helping improve his endurance, performance and speed up recovery times. Already after a few sessions, Ray has noticed an improvement in his performance with a noticeable diminishing of pins and needles during his longer runs. In addition and slightly unrelated to his marathon training, his eyesight has improved and no longer requires his reading glasses!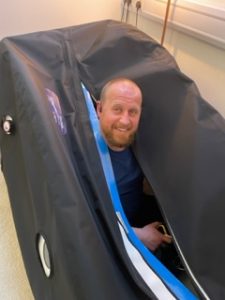 Oxygen Wellbeing are proud to sponsor Ray in his training and recovery.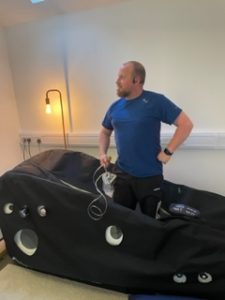 It would be fantastic if we could help Ray smash through his fundraising target.
The road to recovery for Ironman 70.3 World Champion…
Lucy Charles-Barclay was at the top of her triathlon career until she discovered she had a stress fracture of the hip in April 2022 and was told by specialists that she should write off the rest of the 2022 season.
A stress fracture in the hip is a serious injury, and although Lucy's was on the 'better' side of her hip (had the stress fracture been on the outside of her femoral head, she would most likely have needed surgery to fix it), she didn't know what the road to recovery would look like and how long it would take.
She was looking at potentially having to write off what was set to be the most successful year of her career.
It was a difficult time for Lucy – she felt like the rug had been pulled from under her. But she had to focus on her recovery and thankfully, she had a great team around her who supported her on every step of her journey.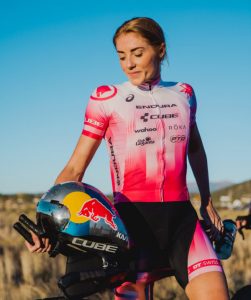 She was determined to come back from her injury, and her ultimate goal was to come back stronger – not just in terms of fixing the injury, but a stronger athlete all around. To help her achieve this, she had an extensive recovery plan, including rest, nutrition, training, therapies and rehabilitation.
One of the therapies Lucy used to support her recovery was the Henshaw Hyperbaric Oxygen Therapy chamber, which she was using twice a day for an hour a time.
Lucy said, "Henshaw Hyperbarics have helped me to take my training and recovery to a whole new level. I started using the Henshaw Deep Oxygen Therapy chamber at the end of April 2022 to help with the recovery of a stress fracture that had been diagnosed in March. At the time specialists had told me to write off the race season and focus on 2023."
"With the help of Henshaw Hyperbarics and the recovery protocol they outlined, my recovery from injury was astonishing."
"Not only that but once I was back training my fitness came back faster than expected, I put this down to my increased recovery between sessions using the chamber. I went on to race in four major championships in the 2022 season, winning a World title in my comeback race in Slovakia and a silver medal at the Ironman World Championships."
What an amazing come back from Lucy!
Find out how Oxygen Wellbeing can help you with your own Sporting goals.